It hardly seems possible that we are in week four of this amazing class with Brooke Snow – the process has been encouraging, inspiring, motivating and very educational! The process she's taken us through has been just perfect and I LOVE the format of this class – I will be sad to see it end, but know that it has brought me SO much more than I ever expected from the process.  Thank you, Brooke…and everyone in class, I love seeing what everyone's vision is and being inspired by all of you…and hope to stay in touch after the class ends!
Week four…the goal was to photograph something that "inspires" us, but is not really related to photography. I thought long and hard about this and had many ideas bouncing around in my head, but once I received a call from my (favorite) cousin in the middle of the week, I knew instantly what I would do and where! My cousin, Tara, lives in Seattle in this AMAZING location, along the Salmon Bay, which links Lake Washington to the Puget Sound, just down from the Ballard locks and literally, right on (and over, depending on the tide!) the water! Whenever we visit, I instantly feel at peace, relaxed and as though nothing else matters at that moment. The views are incredible, sunsets gorgeous and watching the boats go by on a warm summer afternoon from the deck…oh my, this is truly heaven! The reason for Tara's call was to ask if I'd take some photos of her as she is opening her own counseling practice and needs some photos of herself (which she usually doesn't like!)…so what a perfect opportunity to complete two tasks in one afternoon. As we wandered down to the beach, we talked about what each of our visions were for our own "projects" and it was interesting that our ideas both melded together since she is wanting to present and image to potential clients of inner peace and self confidence…it couldn't have been more ideal! We had a gorgeous, bright day (rare lately around Seattle!!) and I embraced the sunshine, using it to create some photos that I feel are calming and peaceful…of course, water, at least to me, is a very peaceful element, so I knew that there had to be an image including it. Tara has a couple of dogs, who are very sweet and loving, so we used them…or I should say, tried to use both, but one is young and had a bit too much energy for the photos, but as you can see in the one photo of her with "Merlin," both of them are at peace as they gaze off to the water and horizon. My final image is inside their home, which is mostly glass across the front (you certainly wouldn't want to limit the views!!)…and it is Tara's favorite place to relax and find peace after a busy and hectic day…a book, cup of coffee and a view that can't help but relax one…are all elements that create peace for her!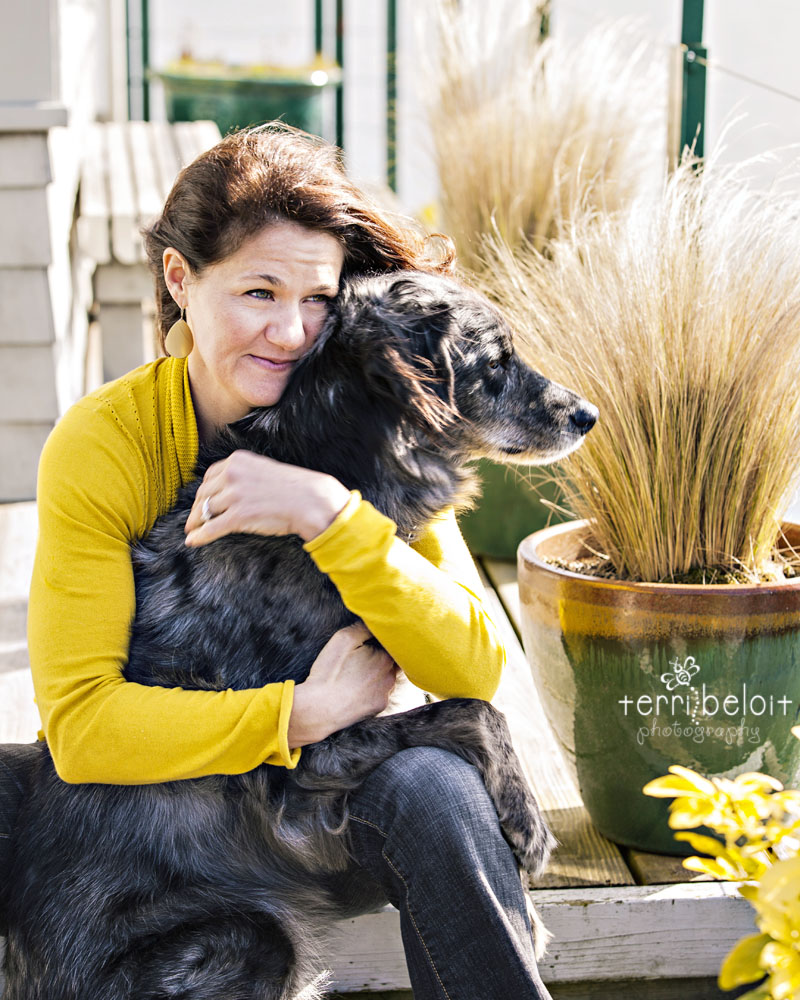 Just wanted to share this photo from later in the evening (after a wonderful dinner with Tara and her husband)…taken from the Ballard Locks, looking at the Salmon Bay Bridge. A little ways beyond the bridge is where their home is…as you can see, a beautiful location!